What makes Catapult a salesperson's dream?.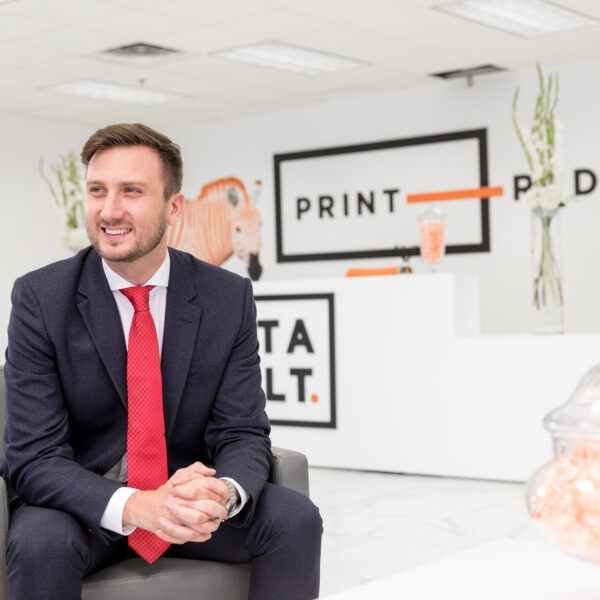 Want to find out more about what a career in sales with Catapult looks like? We caught up with Lewis Cook, head of our incredible sales team, who gave us insight into what the role entails…
Hi Lewis, tell us about the sales philosophy at Catapult
Our philosophy is simple, having a sales and customer-focused culture throughout the whole business. We have a saying at Catapult "if you're the best at what you do then it's easy to sell".
I think it's also critical to understand what your customers want, for me it's never been a one hat fits all approach. Often businesses are led by EBITDA or production which means every decision they make will be done around cost or the impact it will have on their production plan. I find it baffling as I'm sure when a retailer calls one of our customers, they don't turn around and say we can't get it done, they just find a way. We believe in that same approach, it's our job to support and help our customers deliver and win sales, which in turn also benefits us.
I think the other crucial thing is the passion and belief in what you do. It's so important. I can only sell effectively when I believe in the end product and service. Too many sales people only care about knocking the door down, winning the sales commission and have no real understanding of the business. I've always wanted to do a great job for my customers, it's part of my DNA.
How do you work as a team?
I think sales has always been about working in a team environment. Often when companies get bigger you find yourself doing more of the things you don't like to do and less of the things you're good at and enjoy. At Catapult we are a team and all have different skill sets, so we make sure we play to those strengths. Being able to do more of the job you enjoy means you become so much more productive. This approach has resulted in winning more sales. You only get one chance to make a first impression, so we all work together to get it right.
What role does communication play in sales success?
Communication is definitely king. One of the most powerful things we were able to do in our previous businesses and in this one is to communicate well. Internally having everyone aligned and pointing in the same direction, believing and understanding the vision of the business and the role we all play is very powerful, but also externally, having an honest approach to doing business, customers appreciate it. I've heard too many sales people not wanting to give bad news or to start to make excuses why things haven't happened. I think it can really set you apart and build trust with your customers. Communication and honesty have played a big part in my sales success.
So the business is customer-focused?
From top to bottom, we want everyone to understand how important delivering for the customer is, from the janitor to the CEO. Having a 'never say no' mentality to deliver. Our growth in our first full year has been incredible (around $8.5 million dollars). This has all been driven by our customer focused mentality.
It's obviously easy to say it or put that sort of claim out there, but it's our actions that show what customer focused really means. Often, I might be out visiting a customer and get a call asking if I can get a brand new label with them tomorrow because their current printer can't do it, we tackle this head on as a team, everyone pulling together to ensure we get this done. That one opportunity that we said yes to, when everyone else said no is now our biggest customer. This is what being customer focused can do for you, it creates opportunities and converts sales.
What's going to be the chief motivator for someone considering a career in sales with Catapult?
"Success" and being part of a business that supports you and delivers on the promises it makes. I also think being part of a team and having fun, if you truly have the passion and work hard then this is the best place to be a salesperson for sure and you will succeed. We've had one member of the sales team who's transitioned his customers over from his previous business and grown his numbers by over 20%. He has a new lease of life, and his passion is back.
How is Catapult positioned for long-term growth?
We already have the equipment, technology and a 56,000 sqft site capable of delivering the longer term vision and growth of the business. I think this was one of the major benefits of starting a business from scratch opposed to buying a business that had old equipment, culture and mentality. This has allowed us to create something truly unique and really set us up for success and growth for now and in the future.
Staying focused and never becoming complacent means we will continue to grow, never forgetting why we started the business and why we wanted to redefine print for the better. Our passion to deliver for customers, quicker, slicker and more cost effectively will always be at the heartbeat of the business, but to ensure we keep ahead of the competition we must always think differently and continue to adapt and improve and be driven by having great people and a hunger to do a great job for our customers.
We anticipate we will continue our unbelievable curve of growth, adding 50% growth in 2020, and again in 2021, as we add more national and private brands to our list of clients.
How about future career growth for individuals?
If you're part of a fast-growing business, there is a huge opportunity for acceleration. Knowing you're supported, and if you're good enough at what you do, you can fast track that career and progress quickly.
Interested in joining Catapult? We're looking for a Sales Manager to join our team. To find out more, email us or call us on +1 407-890-6400
The post What makes Catapult a salesperson's dream? appeared first on Catapult Print.