GAME-CHANGING TECHNOLOGY.
We've invested in the latest and greatest print tech to revolutionize the marketplace.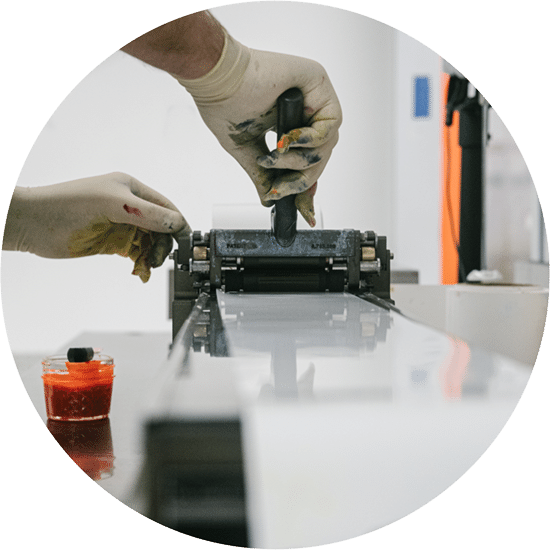 Lots of people say they can do everything. We really can.

We never broker work out and we never make promises we can keep. We're proud of our work, so that's just not how we roll.

Don't believe us? Speak to our team to get a transparent taste straight from the horse's mouth. No one else does what we do and we're getting better all the time.
Get in touch
Because we use the latest techniques and technology we deliver outstanding results, on time,
every time.
Our Studio

We go above and beyond to create the absolute highest quality, turning new files around in 24 hours or less. Our rigorous print controls also mean that what you sign off at your desk is exactly what we print.


Plate Room

This technology also allows us to work faster, taking only one hour to make a full set of nine printing plates. Holding a 0.7% dot means we can print to Litho quality without sacrificing an ounce of agility.

Fixed Color Palette

This is the biggest game changer in print we've ever seen. We've digitalized flexo and actually enhanced what we do. Seriously. You have to see it to believe it.

Ink Lab

No more pantone books or subjective color judgments. The world has moved on and our ink lab measures color using precision science, also known as LAB readings. There's a reason Coca Cola Cans are the same color on every shelf anywhere in the world. It's because they use the same process and technology we do.

Machinery

Our servo driven machines are iPad controlled with automatic registration. A thing of beauty, and the workhorse of everything else we do. All equipped with in-line quality management systems. It's our job to make your life easy.

Bellissima

Our screening technology brings print to life in 450 LPI. By creating a random dot to form ultra HD quality in print, you get the best image reproduction and definition possible. It's a game changer for your brand.