Proud to be driving change with Linerless labeling.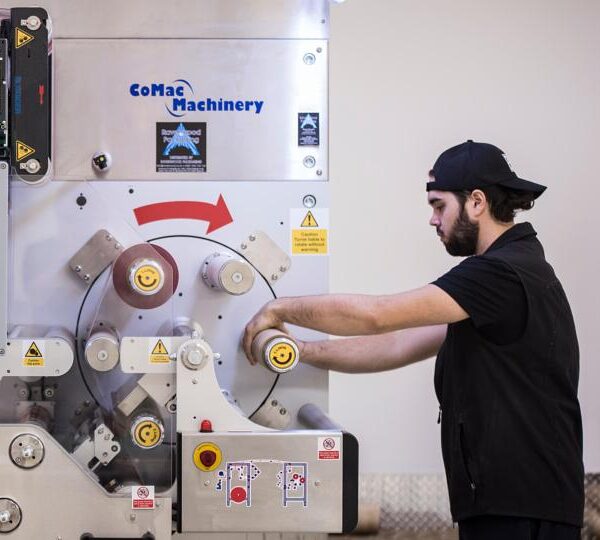 The move away from environmentally harmful polystyrene trays has finally begun as retailers, brands and manufacturers switch to more environmentally friendly packaging formats, which enable extended shelf life and deliver better shelf appeal to consumers.
But when we look at the manufacturing process alone, it's the labeling solution which adds the greatest value.
While it may not be a new concept – in fact, it's been around for about 20 years – Ravenwood Linerless labeling is now rightly gaining its due traction in the US as a top-notch labeling solution.
Experts in the industry recently hailed linerless as the ideal solution for many sectors, calling it a "simple way to improve the packing process and cut costs".
Linerless delivers many benefits, from longer shelf life and better productivity to reduced waste and lower embodied carbon. These qualities have helped it to become the preferred packaging solution across several categories in worldwide supermarkets, including fresh meat, poultry, produce, ready meals and bakery.
In the last five years the format has risen in popularity across Europe, Australia, the Far East and even Russia.
So there's no wonder that with so many benefits linerless is starting to take off in the USA, with packing speeds at 150 per minute, quicker change overs and zero waste going to landfill. It's becoming the go to application to help improve efficiency as well as give a very unique and vibrant look on shelf.
Current trends indicate that health conscious consumers like to see what they are buying – preferring transparent or partially transparent over opaque printed packaging. The linerless format allows the freshness of the product to shine through and, with a more aesthetically pleasing look, create a superior presentation at the point of sale.
Plus, since the labels have no backing paper, there's increased surface print area (top and underside) giving space for recipes, nutritional information, promotions and coupons.
We're very excited and proud to be one of two print companies in the US to be producing linerless labels. We know it well, understand how it works and are a trusted partner in delivering linerless solutions to our new and existing customers with incredible results.
This label solution is simpler, faster, less wasteful and more economical – what's not to love? Make 2020 the year you make the commitment to linerless for your business.
For more information on linerless labelling please give us a call on 407-717-4711.
The post Proud to be driving change with Linerless labeling appeared first on Catapult Print.