Over to you… Walter Laurencio.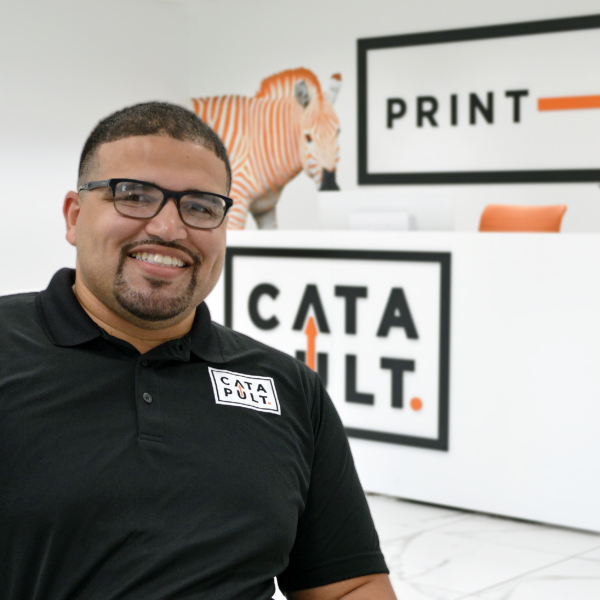 We recently caught up with Press Operator Walter to ask him about working on the factory floor, what he thinks of Catapult's new tech, and what he sees in his (and Catapult's) future…
Hi Walter. Tell us a bit about yourself and the role you have here at Catapult…
I've worked here at Catapult for one year and I'm originally from the Bronx. I didn't come from a background in printing, this is my first job in the industry. With Catapult, I started out in pre-press, making plates, and I've recently moved into printing.
What are the first three things you do when you start your working day?
The first things I do when I come in include, being briefed by my opposite Shift Operators, checking the jobs that are scheduled for the day, paying extra attention to deadlines, making sure we're ready to go with all the tooling, inks and materials we need.
In a typical workday, how do you work as a team with other Catapult staff?
Communication is key, and I'm working with the studio department all day, plus I speak with the customer service department a lot. We talk about each product, making sure they're in line with the Customers expectation and that every aspect of the quality remains high.
What sort of things are you watching out for when you're operating the presses?
There are so many details, and any one of many things could go wrong if you're not vigilant. The paper might snap, issues with the plates and inks or the Doctor blades might wear during the print run. We have recently had AVT inspection cameras installed on all the presses, this enables us to catch any print defects we may miss. It's about ensuring the consistency is there and that things are running smoothly from beginning to end.
Has working at Catapult changed the way you look at labels?
I definitely look at labels differently now. At the supermarket, I examine the labels on the product shelves and I point out to my kids the labels we make here at Catapult.
What do you think of Catapult's enthusiasm for the latest technology?
Every machine is very advanced and everything on-site is completely top of the line. My presses run off of an iPad. Mark has done a great job getting us all of the equipment we need to deliver for our customers. We've just got our new Nilpeter FA press in – it's our third here at the plant – and when it arrived everyone was a bit giddy about it. It was definitely an exciting moment.
What's the best part of working at Catapult?
The management from top to bottom makes the difference here. It's a family company, and it's definitely a family environment. It's about the way the company is run, and the way management shares their knowledge, especially Chris Mountain, who has a lot of knowledge in the print and packaging industry. There is a lot of industry experience here at Catapult and everyone here is passionate about passing on that knowledge and helping each other grow.
What would you like to achieve in your career in years to come?
I want to Catapult forward! No really, I can see myself running the plant, growing with the company. I'm proud of what we produce, and the positive feedback we get from clients. I'm excited to see the company's continued success and I'm definitely going to be here to see it carry on growing.
The post Over to you… Walter Laurencio appeared first on Catapult Print.