How our onsite ink lab has a commercial impact on our customers….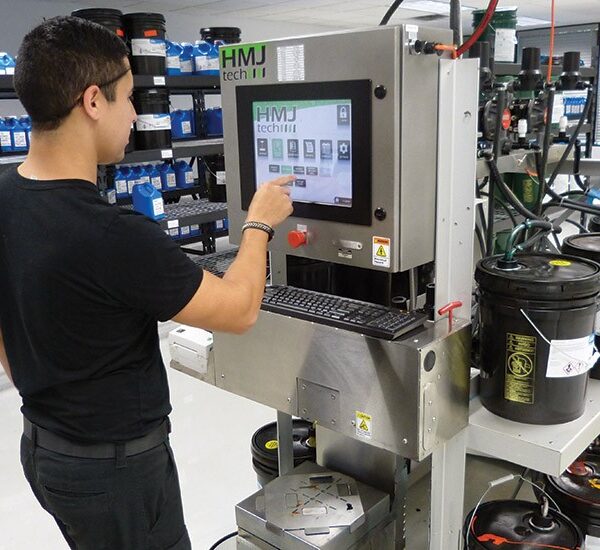 A behind the scenes look at how our investment in technology based color management systems is having a positive commercial impact on our customers
Retailers and brands spend millions on their logos, color palettes and pack designs. Maintaining a consistent brand image is critical for all of them. If a brand's colors aren't consistent it suggests a lack of quality and can cause confusion, impacting loyalty.
What would a brand be without its trademark color? Take Coca-Cola, for example. Its iconic red shade can be found worldwide – without it, the soft drink's presence on shelf just wouldn't be the same.
There's actually no Pantone color for Coca-Cola red, but when you see it, you know it. The enduring "promise" of the color red continues to inform Coca-Cola's contemporary approach to design, so much so that James Sommerville, VP of global design at Coca-Cola, considers it the company's "second secret formula".
So how do internationally recognized colors like Coca-Cola's red guarantee their iconic shade remains the same on every can and bottle across the world? To answer that we'll have to look at the factors that impact the way color is produced in the commercial world.
At Catapult we are driven by the ambition to deliver high quality print, with shorter lead times and at the best price possible. It's all part of our commitment to our five pillars that we established from day one – where we aim to focus on quality, price, service, lead times, and innovation in order to become a customers' go-to partner. All of which are underpinned by our investment in technology – (we'll get to this in a minute).
Our commitment is to print to the numbers and harness as much automation as possible to be able to effectively and profitably address shorter lead times, meet tighter tolerances, reduce make ready time whilst continually exceeding customer expectations at the highest levels of quality and consistency. By implementing a holistic approach to color management we're well placed to meet these goals and continue to evolve over time as color requirements become more stringent to every retailer and brand.
There are several factors posing potential pitfalls when it comes to color consistency – namely, the wide variety of printing processes, substrates, and inks used in printing today not to mention the variation of color between one Pantone book to another. A widespread quality assurance issue is the subjective view of color. Sometimes it can be up to the individual printer in terms of how they 'see' color when it comes to sign off, gender can be impactful on our viewpoint, as can health – those with diabetes for example, can often see certain colors in a different way. Unarguably, leaving it up to human perception is an approach that can cause real problems.
Apart from a very small percentage, most US printers in the packaging industry still rely on outdated methods to complete their color assessments (we estimate 98%). This finger in the air approach means color consistency is flawed. It's not about science, it's about sentiment.
Color can be complex and is often the biggest cause of slow makeready and down time. It's commonplace for under pressure printers to get the job out of the door, even if there is a quality issue and it's a million miles away from the actual Pantone color that's been briefed. At Catapult we wanted to think differently from day one, enlisting the support of INX to provide a total solution for accurate, reproducible, and consistent color time and again. The best analogy to use is that of baking a cake, if you replicate the same ingredients, then you'll end up baking the same cake. INX's solution, utilising the latest technology means we deliver right first time, allowing us to generate unbelievable efficiencies.
Having true partners to come on this journey was always at the centre of our vision. INX really understood our ambition to deliver an under-one-roof solution, as well as become the most efficient print business out there, committed to delivering the highest quality at the lowest cost.
Our onsite ink lab is now one of the best in the US and has given customers a different perspective, demonstrating that color can be straightforward and scientific rather than based on guess work or preference. It is fundamental in us being able to pass on cost savings without compromising on quality.
All our colors are drawdown in our ink lab well before we get to press, whether it is a standard Pantone from the digital library or a bespoke color from the customer, we can match it spot on. The incredible work we put in at the start to fingerprint all the presses has meant we are now literally printing by the numbers.
This level of sophistication and technology means we can actually use the material we will be printing on and the exact anilox being used on the press, allowing us to create color drawdowns to the exact press conditions.
It's all been made very simple by using PantoneLive and Xrite color reading software, which allows us to create the perfect recipe on the correct material to digitally create the exact  Pantone, always matching to a Delta reading of under 1 (under 4 can be seen with the naked eye)this means when it comes to the printing press and make ready speeds we hit the color first time, it's truly amazing, no more messing around for hour trying to match color, all the hard work has been done.
Every mix is then saved and entered into our HMJ tech a200 – ink mixing machine, think along the lines of the color mixing service offered by Home Depot and you're not a million miles away. This technology means color matching is a precise science, following a process guaranteed to deliver identical results time and again. Before now, printers used to hand mix, pouring color from tubs, you can imagine the issues with that! We work in collaboration with X-Rite, a provider of end-to-end color management solutions, who help us bring together the art and science of color. By implementing a software-based process control solution such as X-Rite we can monitor production quality in real-time further minimizing opportunity for error and reducing waste. Furthermore, this level of accuracy not only means we are able to mix your color to the exact recipe every time, but it also ensures it will be exactly the same every time we run it. No more inconsistencies.
X-Rite also works in conjunction with PantoneLIVE, giving us access to a secure, cloud-based repository of common Pantone color libraries and the corresponding dependent color standards based on 34 common printing substrates providing complete control. Utilising this tech, allows to reduce our makeready effort by targeting realistic packaging colors before going on press, decreases waste in the ink room, shortens time to market, delivers consistent and repeatable color and improves visibility to performance across an increasingly complex supply chain. If you're a buyer or marketeer, your focus should be elsewhere, not worrying about a potential issue with color discrepancies. That's our job. It's just that with tech like this, there really isn't a reason to.
All brand custodians want their pack to stand out for the right reason, not because the colors are off. Catapult was established by packaging industry pros who have spent decades at the front line of retail and understand that on-shelf stand-out is hugely reliant on correct color representation. We can't tell you how many customers we've worked with that have invested significant resource, both time and spend, as well as passion into beautiful designs only to be left disappointed by the end result. That's when the blame game begins, the printer blames repro or design, the design team and repro blame the printer – not only is it a waste of time but it doesn't foster good working relationships. In establishing Catapult, we've drawn on that experience and, aware of the flaws in the present system, pledged we'd bring about change that was impactful on our customers and could be felt in real commercial terms.  Afterall delivering quality jobs with on-point color should be the norm.
At Catapult, we're using advanced technology, not subjective means, to ensure your packaging performs and that color is reproduced accurately, resulting in a cohesive point of sale leading to the best possible engagement for your brand. The feedback we have heard from customers who have utilized our innovations so far, is that they are extremely happy with the consistency and that the wider benefits of an automated process is positively impacting their bottom line.
If you'd like to know more about Catapult's ink lab, color referencing methodologies or how Catapult Print can help your business, contact us at contact@wearecatapultprint.com or (407) 890-6400.
The post How our onsite ink lab has a commercial impact on our customers… appeared first on Catapult Print.