Delivering Unique Customer Experiences: Catapult's Secret Sauce.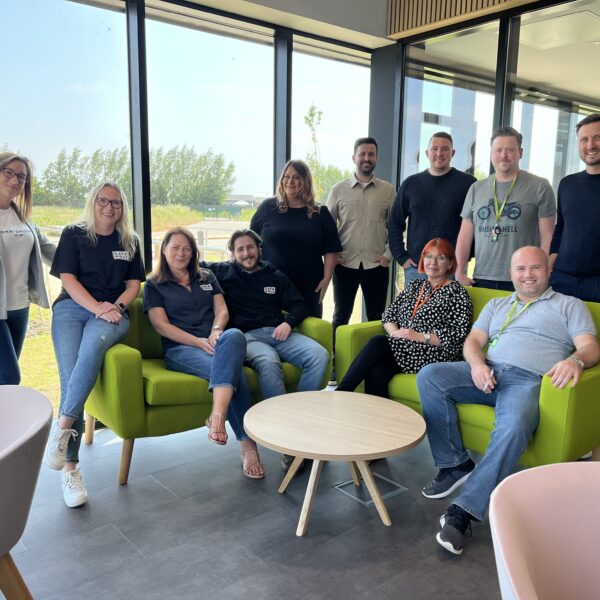 Delivering Unique Customer Experiences: Catapult's Secret Sauce by Sarah Royce – Head of Client Services
When people ask me about the role of customer services within a company, they often expect a straightforward answer. But the truth is, customer services is where the magic happens – it's where change begins.
There's a direct link between customers and our business here at Catapult; we listen to what they have to say. Once that connection is established, we have an opportunity to engage customers, build loyalty and drive outstanding results. Ultimately, that's what we're all about.
Our customer services department is built on the three essential "P's" of being 'passionate', 'progressive' and adopting a 'people-first' attitude. I think that listening to customers' wants and needs is the key to propelling any business forward, and our success in this area means we're in a unique position to welcome new clients and collaborate with them to fulfill every unique requirement.
But how do we put each of those pillars into practice? Let me take you through how our values affect what we do day-to-day…
1. Passionate.
From top to bottom, we're all passionate around delivering for our customers.
At Catapult, we're passionate about delivering unparalleled customer experiences, and our commitment to excellence goes the extra mile. We go above and beyond to make our customers' lives easy because, for us, it's not just about the big things but also the little things that make a big difference.
With many years of customer service experience in the print industry between us, I'm a firm believer that our team at Catapult stands out from the competition, and much of that comes down to passion, as well as professionalism. We have handpicked the best talent from the UK, creating an elite team with extensive experience, and we understand that the key to our success lies in our people-first approach (which I'll talk more about later).
I joined Catapult almost a year ago, and my time here has flown by. Having worked with Mark previously, I was drawn to Catapult by its passion for delivering something truly unique. My background in the dynamic and progressive UK print environment has been invaluable in the fast-paced US market, where we see trends transitioning from overseas.
One of the most rewarding aspects is contributing to Catapult's culture and strong industry reputation. When customers refer their associates and contacts to us, it's a testament to our excellent work. Improving customer satisfaction and enhancing our service offerings are daily goals I strive to achieve.
You might be wondering what a typical day looks like at Catapult. Well, I can tell you that no two days are ever the same. The diversity of challenges and opportunities keeps me on my toes. Being on the frontlines allows me to build strong relationships with our clients, both old and new. I'm a people person, and I thrive on understanding what we're doing right, implementing our processes and suggesting improvements.
I take pride in our team's ability to rise to any challenge (even the last-minute emergencies that can come up at 3pm on a Friday!) Thanks to our agile model and structure, we can deliver on these requests, which is made possible because our business supports us in doing so. We're available around the clock because we work hard for our customers, meaning we're always ready to meet their needs, no matter when they arise.
It's situations like these which truly highlight the essence of teamwork. Pulling together and leaning on each team member's unique skills and expertise means we're able to deliver exceptional results. While I may take the client brief, it's just one piece of the puzzle. When all our efforts come together, we create happy clients and achieve the very best outcomes.
It's time for customers to expect more from their print partner, and at Catapult, we're here to exceed those expectations.
2. Progressive.
Investment in systems, technology and automation makes our job easy.
With two decades of experience in the UK, where customer service standards were firmly established, transitioning to Catapult in the US was a significant shift. What became evident was the distinct contrast in customer service expectations between the two markets. In the UK, we often took the high level of care and meticulous attention to detail for granted, but in the US, it stood out as something truly exceptional.
We understand that every one of our clients has unique needs and requirements and we're always happy and ready to accommodate this. Ultimately, we want to be the best, so shaping what we do and making life easy is what we strive for every day.
While the speed of service undeniably holds importance, it is not the only determinant of excellence. Having an unwavering commitment to detail is indispensable, especially when it comes to dealing with more complex projects. And we place significant emphasis on precision and effective communication. Our dedication to establishing clear timelines ensures that everyone involved is well-informed about their expectations. This balance between speed and precision is especially vital in the fast-paced food industry.
In virtually every sector, technology is reshaping the landscape of customer service, and a good example is our use of live data, which means we can work in reality, continually improving how we work together. And while we wholeheartedly embrace the advantages technology brings, we never lose sight of our core customer service principles. The personal touch – reaching out with a phone call and fostering genuine connections – remains paramount, and it's those small details which add up to create the high standards we're striving to achieve.
Our systems and automated processes make that communication easy and result in complete transparency and visibility, both internally and externally. Having a pro-active, can-do approach ensures we put customer at the front of every decision we make.
3. People-First.
We invest in the best.
As the old saying goes, 'the customer is always right', and in a world that's constantly evolving, Catapult excels in meeting our customers' ever-changing needs and even anticipating those changes. We understand that staying ahead of the curve and anticipating changes is essential, but perhaps even more importantly, everyone here cares about the business and our customers. We work hard every day to ensure we're the best at what we do, and we're very proud of what we've created and the new standards we're setting.
So, what's the secret?
Our strength lies in our knowledge and expertise, and we prioritize being honest and open with our customers, building trust and strong relationships. We also avoid delivering bad news via email, understanding that personal communication is crucial.
Our new customer online portal – named Crystal – provides our customers with visibility and access to their information with a simple click. It allows us to keep customers informed about the progress of their orders and swiftly address any changes they might require.
We know that our customers value our rapid responses and quick turnaround times. We're agile and can complete projects in a matter of hours if needed, on top of our already fast lead times. Effective communication is our hallmark, as we ensure customers are kept informed at every stage of the process.
As our company website so perfectly puts it, we're passionate about doing a great job for everyone. There's no trick to it – just good old-fashioned hard work, while always keeping those three core customer service values in mind.