Catapult's Refreshing Approach to Fresh Produce.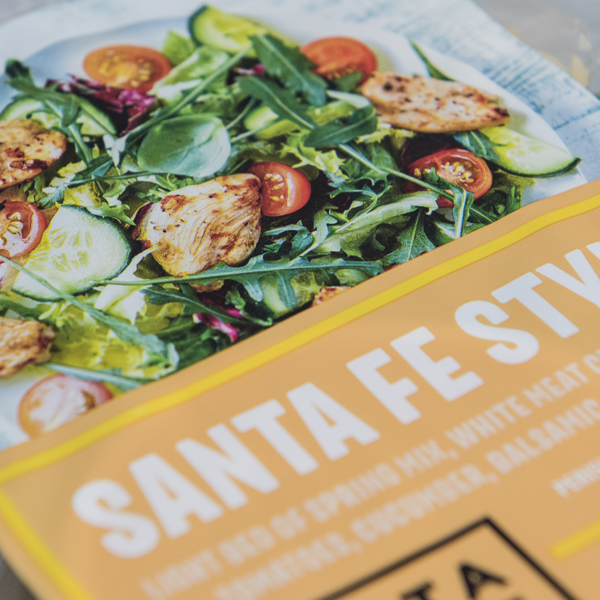 As suppliers remain responsive to the ever changing produce sector, packaging and label printing factors such as lead times, quality and price must not be ignored…
The produce industry is like no other, it's fast, furious and highly competitive.  Moreover, it has undergone huge change – both in consumer behavior and supplier mindset.
If you look at the sector a decade ago, there was less packaging, more loose products and more traditional shopping habits at play. Fast forward to today and consumer demand for convenience has peaked, innovation, quality and freshness has grown and suppliers who wish to remain competitive in this challenging, fast-paced market, have become focused on expanding their value proposition, working harder to satisfy consumers' desire for new, innovative products as well as goods that can be easily integrated into their time-poor lifestyles.
The produce offering has never been more diverse, with unexpected new items constantly hitting the aisles, from ready prepared ingredients to items which simultaneously inspire curiosity, satisfy dietary requirements, and align with the latest food trends.
Catapult has created a business and a culture that is perfectly aligned with the produce market place and the suppliers within it. At Catapult, we know that a day is a lifetime in the world of produce, where goods may only have as little as a three-day shelf limit or where seasonality can create spikes in demand.  That's why we've built an agile, customer focused business that gets what it takes to be a real partner. By developing solutions that produce suppliers face regularly, driving down lead times to ensure we can help them meet demand 52 weeks a year, to capitalize on every commercial opportunity.
Our business model has 5 key pillars at its core– quality, price, lead time, service and innovation. It's something we work hard at every day. This commitment was the reason we built a state-of-the-art business that operates according to an "all under one roof" model, working to streamline the printing process while delivering results of unrivaled quality – providing the sort of speed and price points other printing companies envy, but can't duplicate. Catapult has been purpose built to deliver for customers, having everything ''all under one roof" has created a customer focused mentality and passion to deliver no matter what.
Our success and our ability to continuously attract new business wins in this sector are a result of our commitment to excellence when it comes to our products and service. With knowledgeable staff and a can-do culture, we turn projects around in hours and days, not in weeks. Where other companies default to a "no, that's impossible" response, we say "yes, we can".
This vision and its delivery didn't happen by accident, in fact it's been 30 or so years in the making. Our collective experience in print, packaging and design means we've seen a lot of the good, the bad and the ugly. We set out to redefine the industry for the better, using the latest and best technology around across every touchpoint in our entire business, this is why we're creating such a buzz in the industry.
At Catapult we guarantee unrivaled quality, consistency and service from day one, driven by our investment in the latest and greatest technology in every department. Our printing presses have automatic registration, every label is always in register, job recall that cuts make ready time in half, AVT inspection systems that monitors every single label that comes off the press, Bellissima plate screening that creates high definition print quality, it's game changing and gives everyone the WOW factor.
Our printing technology combined with our onsite ink lab means you're not limited to the palettes of the past – your new brand look can incorporate vivid colors, color-blocking patterns and white on clear eye-catching options that boost on shelf standout and drive sales.
We're proud to offer the ground-breaking quality as a given, quality should be assumed not an added cost. This means our clients will never again have to compromise on quality for the sake of price. And while we may have some pretty amazing technology, it's our culture that truly matters. We take a customer-focused, tailor-made approach to satisfying each client's needs. This is part of Catapult's DNA: our culture and values impact the way each member of staff interacts with our clients, from the very first phone pick-up, through delivery, to the building of long-lasting relationships.
Our growth speaks for itself, in our first full year we on target to hit $8.5m in sales, and recently invested in more technology and machinery adding another Nilpeter FA press, AVT systems on all machines and a new Ashe Opal rewind machine. The acquisition of this third press will amplify our capacity, enhancing our offering, further supporting our growth ambitions and those of our customers.
Produce is now one of our biggest categories and we are fast becoming the go to printer in this sector in terms of delivering the highest quality results, quickly and at the lowest price. Demonstrating that we can aid manufacturers and retailers in their ambitions to succeed in their market.
With in-depth knowledge of packaging and labelling across wide-ranging sectors, our experienced team members can provide the insight and know-how your business needs to grow and succeed amid the challenges of the fresh produce marketplace. If you would like to know more about how Catapult can help your business, contact our friendly team on (407) 890-6400 or email contact@wearecatapultprint.com.
The post Catapult's Refreshing Approach to Fresh Produce appeared first on Catapult Print.